A Look Ahead At The Week's Art&Seek Picks
ArtandSeek.net
February 10, 2016
10
Here's what's coming up this week at Art&Seek:
WEDNESDAY
Wednesday Series: Art in Context – Professor Mary Vaccaro talks about her research of sixteenth-century works on paper in the discussion "Detective Work and the Connoisseurship of Old Master Drawings" at the Kimbell.
The Bridges of Madison County – An Iowa housewife has a whirlwind romance with a traveling photographer. But what happens next? Find out in this musical at Music Hall at Fair Park.
THURSDAY
Eric Bogosian – Bitter Honey: The Best of 100 Monologues – Bogosian performs his favorite character monologues from over the years at the Wyly Theatre in Dallas.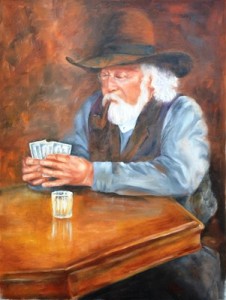 Gazing West – The Keller Public Arts Program presents an exhibition of work by three artists commemorating the Old West through their paintings. See the works in an opening reception at Keller Town Hall.
FRIDAY
Sossy Mechanics' Trick Boxing: Swingin' In the Ring – The actors of Sossy Mechanics tell a romantic rags-to-riches story through physical comedy, 1930s music, and swing dancing – with the help of a few puppets. Check out this show at the Eisemann Center.
Opening Reception – Luminous; An Exploration of Texture, Light and Iridescence By Mark Reese – Mark Reese paints with an erratic, gothic style. See his work in an exhibition opening at the Fort Worth Community Arts Center.
SATURDAY
The Echo Room presents: HER SONG Music and Dance Revue! – Hear songs from the Great American Songbook in a 1930s style jazz club. This song and dance show plays at Bath House Cultural Center.
TITAS Presents: BALLETBOYZ – TITAS brings this all-male troupe to perform its athletic choreography at the Winspear.
SUNDAY
A Valentine's Day Double Feature with Ricki Derek – Ricki Derek and The Vegas Six perform romantic jazz followed by a screening of Casablanca in this Valentine's Double Feature at the Granada.
Film Series: "A Star is Born" – Catch a screening of the 1937 film accompanied by a discussion about the Hollywood culture of the time. Plus Thomas Hart Benton's artworks are on display in the exhibition American Epics: Thomas Hart Benton and Hollywood at the Amon Carter Museum of American Art.
MONDAY
Pandora's Box presents : Kevin Sandbloom, Jean Lamberty and Leah Tieger – Head to The Crown and Harp in Dallas for this month's poetry showcase.
Focus Gallery Two: intricate patterns – Sarah Wiseman examines how visual thoughts are created in her layered paintings. See the works in this exhibition at Fort Worth Community Arts Center's Focus Gallery Two.

TUESDAY
Buster Keaton's "The Goat" – Catch a screening of the 1921 silent film The Goat at Dallas City Performance Hall complete with a new score performed by the Dallas Chamber Symphony.
Guest Lecture & Opening Reception: Joyce Elaine Grant Photography Exhibition – This year's annual Joyce Elaine Grant Photography Exhibition opens at TWU's East and West Galleries with a guest lecture from this year's juror, Dr. Rebecca Senf.