A Look Ahead At The Week's Art&Seek Picks
ArtandSeek.net
May 25, 2016
6
Here's what's coming up this week at Art&Seek:
WEDNESDAY, May 25th
Raj Sharma Presents…. Stand Up dalLAs – Dallas-bred comics perform stand-up comedy in this show at Hyena's in Dallas.
Dallas Holocaust Museum Spring Fundraiser: Cabaret – Set in the seedy Kit Kat Klub in 1931 Germany, this musical is a commentary on the politics of the day. The show opens at the Winspear.
THURSDAY
Birds and Brew – Sample beer from local breweries while you take a night hike or check out the butterfly gardens at the Trinity River Audubon Center.
Cervantes and Shakespeare – The Break from Myth and Legend – The Orchestra of New Spain and Avant Chamber Ballet celebrate the work and influence of Cervantes and Shakespeare at Dallas City Performance Hall.
FRIDAY
Wait Until Dark, by Frederick Knott, adapted by Jeffrey Hatcher – A blind woman is up against a group of criminals in this classic thriller. It plays at Stage West in Fort Worth.
The Polyphonic Spree – The Texas pop choir performs an outdoor concert at Levitt Pavilion Arlington.
SATURDAY
Slideluck Dallas 2016 – This potluck/group art show at Strauss Square includes a slide show of artists' work and live music by Sam Lao. Don't forget to bring food to share!
Texas Ballet Theater Presents: First Looks – Texas Ballet Theater presents three different works in this concert at Bass Performance Hall.
SUNDAY
Our Heroes – Soluna continues with a concert of patriotic music honoring local veterans and first responders. Join the celebration at Klyde Warren Park.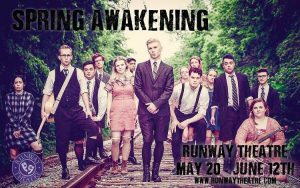 Spring Awakening – 19th century teens navigate sexuality, school life, and other drama in this rock musical at Runway Theatre in Grapevine.
MONDAY

TUESDAY

DMA Arts & Letters Live presents – Dacher Keltner: Survival of the Kindest – Psychology professor Dacher Keltner acted as a scientific consultant on the Pixar film about emotions Inside Out. He'll talk about compassion and well-being using clips from the movie at this event at Dallas City Performance Hall.
Conrad Tao – The DSO artist-in-residence plays a solo piano recital at the Meyerson.