A Look Ahead At The Week's Art&Seek Picks
ArtandSeek.net
June 1, 2016
4
Here's what's coming up this week at Art&Seek:
WEDNESDAY
International Nightscapes: Recent Works By Bob Chilton – Photographer Bob Chilton showcases his images of the ocean, nature, and real life in this exhibition at the Patterson-Appleton Art Center in Denton.
TWO – This group exhibition combines nature and geometric, industrial subjects revealing their similarities. Check out the show at Art Room Gallery in Fort Worth.
THURSDAY
Keller Summer Nights – This series kicks off with a concert by singer-songwriter Lucas Jack and a screening of The Good Dinosaur on the lawn at Keller Town Hall.
Emily Maya Mills – Comedian Emily Maya Mills performs her stand-up comedy at Amphibian Stage Productions in Fort Worth.
FRIDAY
Museum Murder Mystery: An Artful Game of Clue – Play a live game of Clue – interview "suspects" and solve the "murder" at the Dallas Museum of Art.
Roy Rogers Daughter Cheryl Rogers Barnett – Cheryl Rogers heads to the Allen Public Library to talk about her new book "Cowboy Princess Rides Again" and to present a documentary about her parents, rodeo icons Roy Rogers and Dale Evans.
SATURDAY
Art Conspiracy presents ANONYMOUS – All of the artwork at Art Con's "Anonymous" have been created using grayscale values. Check out the art and live music at LIFE in Deep Ellum.
Concerts In The Garden: Classical Mystery Tour – The Fort Worth Symphony Orchestra plays the music of the Beatles in this concert at the Fort Worth Botanic Garden.
SUNDAY
LIBERTÉ, EGALITÉ, ADOPTÉE – This one-woman-show about fitting in plays at Magnolia Lounge as part of Audacity Theatre Lab's Dallas Solo Fest.
Monty Python's SPAMALOT – See this musical based on the films at Casa Manana.
MONDAY
Summer Concert Series at Haggard Park – The Plano Community Band plays "All Time Favorites" at Haggard Park.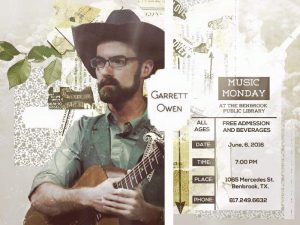 Music Monday at Benbrook Public Library – Dallas singer-songwriter Garrett Owen plays a concert at the Benbrook Public Library as part of the Music Mondays series.
TUESDAY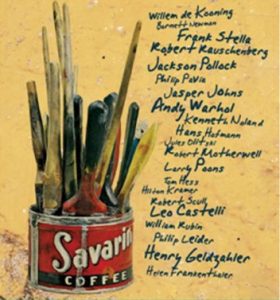 Tuesday Evening at the Modern: Painters Painting: A Candid History of the New York Art Scene 1940-1970 – This documentary focuses on contemporary artists including Frank Stella and Willem de Kooning. It screens at the Modern Art Museum of Fort Worth as part of Tuesday Evenings at the Modern.
Trinity Shakespeare Festival at TCU – Shakespeare's The Winter's Tale plays at TCU's Hays Theatre as part of the Trinity Shakespeare Festival.