A Look Ahead At The Week's Art&Seek Picks
ArtandSeek.net
July 20, 2016
4
Here's what's coming up this week at Art&Seek:
WEDNESDAY
DMA Arts & Letters Live presents – Chris Colfer: Fairytales Transformed – Chris Colfer – of Glee fame – talks about his fifth book in his bestselling series, Land of Stories. He'll be at the DMA as part of the Arts and Letters Live Series.
Three Ways To See – This exhibition features the work of three regional artists who all take inspiration from organic forms and spontaneous gesture. The resulting creations represent very different styles, and you can see the work at the UNT Health Sciences Center Atrium Gallery in Fort Worth.
THURSDAY
Querolus, or Missed Fortune – MBS Productions presents this comedy full of back-stabbing con artists and elaborate schemes. See the show at Stone Cottage Theatre in Addison.

3rd Thursday Jazz: Women in Jazz – Explore jazz from its earliest roots to its modern sounds at the Fort Worth Public Library's Central Branch. "Women in Jazz" features vocalist Breggett Rideau and her all-female group.
FRIDAY
Opening Reception: Literal Interpretation – Four artists have created works featuring real and imagined subjects. The exhibition opens at North Haven Gardens in Dallas.
Regrets Only – This modern day social comedy plays at Runway Theatre in Grapevine.
 SATURDAY
5th Annual Dallas Gallery Day – Thirty-one Dallas galleries in The Design District, Deep Ellum, The Cedars, Trinity Groves, Uptown, and The Arts District will be open all day for the 5th Annual Dallas Gallery Day. Plus – craft beer, food trucks, and prizes.
Nice Work If You Can Get It – Garland Summer Musicals presents this show full of bootleggers, politics, show girls, and Gershwin tunes. See the show at Granville Arts Center.
SUNDAY
Basically Beethoven Festival: Let's Dance! – Ensemble 75 plays dance themes including a tango for cello and piano, a Hungarian Dance by Brahms, and music by Faure and Beethoven as part of the Basically Beethoven Festival at Dallas City Performance Hall.

"Bonnie & Clyde" at Theatre Coppell – The story of these two ill-fated lovers and criminals comes to life onstage in Theatre Coppell's production of this musical at Coppell Center for the Arts.
MONDAY
Fresh Paint: Plein Air Works by 4 Artists – This group exhibition features oil paintings showcasing natural light and landscapes. The works are on display at Keller Town Hall.
Time Along A Wasted Line – This exhibition of watercolors and layered sculptures can be seen at the Dallas Public Library's Central Branch.
TUESDAY
The Taming of the Shrew – Junior Players presents this version of the Shakespearean comedy set in a modern day culture of excess. See the show at the Samuell-Grand Amphitheatre in Dallas.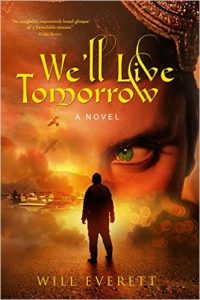 Will Everett – We'll Live Tomorrow – Will Everett's novel is a humanistic and intimate look at Afghanistan and the aid workers there. He'll talk about the book at The Wild Detectives in Dallas.