Art&Seek Jr: Give Boredom The Bounce With These Spring Break Camps
ArtandSeek.net
March 3, 2020
13
Happy March, everyone! Two things are inevitable about March. First, we'll have one last cold snap during the month before we can officially say winter is over. Expect it to arrive three days after the sweaters are packed away for the season.  And, two–your kids are going to complain about being bored this spring break. That's right, despite having a whole week off to rest, kick back and be a kid, about day two they'll inexplicably run out of things to occupy themselves.
Head the whining off at the pass and get the wee ones out of the house and having a good time at one of these fabulously fun spring break camps. And if these don't fit the bill, don't worry. We've got lots more camps to choose from in our special Spring Break theme.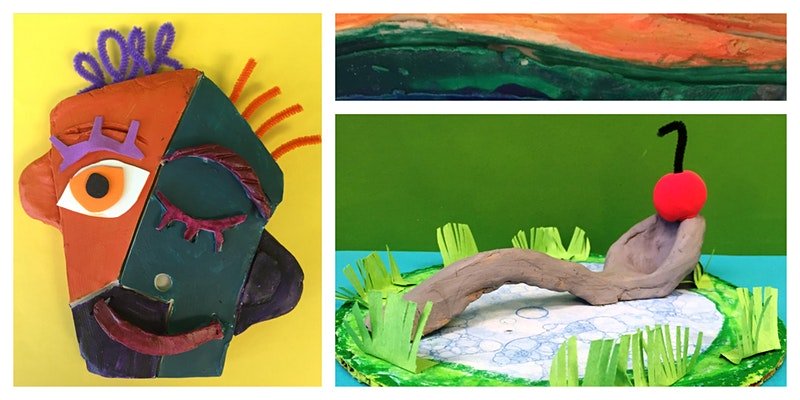 Spring break is the perfect time to get the kids reacquainted with their inner Van Gogh. Get those creative juices flowing with Masters in Clay Mini-Camp at Kidcreate Studio in Mansfield. Budding artists will recreate famous works of art like Monet's Water Lilies, Munch's The Scream, Oldenburg's Spoonbridge and Cherry and many others–all in clay. This one-day camp happens on Monday from 9 a.m. to 3 p.m. and is for kids ages 5-12.
Another great camp for kids who love to create is Camp SCRAP in Denton. The name says it all because Camp SCRAP is an art camp centered on themes of creative reuse. The theme this spring break is RAINBOW! Kids ages 6-12 can create animals, unicorns and everything that says "Rainbow" from reused materials and, you guessed it–scraps! Projects are a mix of staff lead projects and free building with access to a craft supply wall chock-full of materials to choose from. The 5-day camp is for kids in the 1st through 6th grade.
Winter is over and spring is finally here. The animals at the Fort Worth Zoo are ready to celebrate the warmer temperatures and venture out of their cozy winter dens. Kids can welcome the animals back at the Zoo's popular Spring Break Camps. Kids in 1st through 5th grade will enjoy zoo hikes, animal presentations, crafts and activities throughout the week. You can sign up for the whole week or just one day if you like.
Don't let your little tater tots languish away on the couch this spring break. Get them away from the video games and into the great outdoors at one of the mini-camps at the Heard Natural Science Museum & Wildlife Sanctuary in McKinney. Each mini-camp explores a different natural science topic. Seek out the first signs of spring on Tuesday, be a Junior Keeper on Wednesday, and solve a nature mystery on Thursday. And of course, the camps also include indoor activities and time outside exploring the 289-acre sanctuary. The half-day camps are for kids in kindergarten through 6th grade.
If the kids just can't give up the games, let them go old school with the Dungeons & Dragons Camp at Doc's Comics and Games in Frisco.  Campers will get a brief review of the history of the role-playing fantasy game and they'll also learn how to play.  The camp also includes goodies like a character miniature, a how-to painting session, a player's handbook, dice, a dice pouch and lunch each day. They can play their little hearts out from 11 a.m. to 4 p.m. each day of this 5-day camp.
For even more kid-friendly events, explore the Kids & Family section of the Art&Seek calendar. And don't forget to check out our special Spring Break theme for even more camps.