Chug, Chug, Chug! The Holiday Trains Are Pulling Up At NorthPark
ArtandSeek.net
November 24, 2020
8
All aboard! The trains are pulling into the station at NorthPark again. The miniature train exhibit is back with its annual carload of holiday cheer.
The Trains at NorthPark is the largest model train exhibit in Texas. The 700 plus personalized railcars, and 1,600 feet of tracks are set against a backdrop of intricately detailed scenes and miniature iconic landmarks.
For 32 years  The Trains have helped raised funds to help support The Ronald McDonald House of Dallas (RMHD). And for 40 years, The Ronald McDonald House of Dallas has provided sanctuary and support to families who come to Dallas for medical treatment for their children.
Jill Cumnock is CEO of the Ronald McDonald House of Dallas. She said all the proceeds from the holiday exhibit benefit RMHD. So in a typical year, the trains bring in about 30% of their overall budget.
However, this is no typical year. Like other organizations at this time, RMHD has implemented new safety and cleaning protocols. That means there are a limited number of tickets available to the very popular attraction to ensure reduced capacity. All tickets must be purchased online and in advance. Everyone is required to wear masks. In addition to cleaning touchable surfaces, the staff is on hand to help families keep appropriate distances from one another.
Cumnock said, "It's a wonderful way to bring your kids to a fun festive holiday experience and at the same time help support families who are travel to Dallas to get help for their sick children."
Cumnock said visiting the exhibit is like taking a journey. You'll see hundreds of hand-painted railcars roll across America – from the autumn foliage of New England to San Francisco's Golden Gate Bridge. There are the traditional landmarks to visit at stops along the way like in New York City, Washington DC, and of course Dallas. In the desert  Southwest, there's the Grand Canyon and Garden of the Gods and observant travelers will also spot some interplanetary visitors.
But Cumnock's favorite part of The Trains?
Watching the kids go through the exhibit.
"The wonder on their faces and just the excitement and just you know seeing them.  When you look at all the details in that exhibit and they see this and they see that and they can push this button and make this happen. And you know there are just so many different things to look at. I mean, you know Big Tex is there and the Ferris wheel. . . In Roswell, we've got a little Martians coming down the stairs of the spaceship. I mean, there's just so many different things to look at. I think watching the kids get excited about all the different elements is really fun."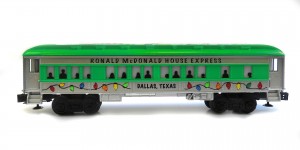 Keepsake railcars that can be personalized are still available to purchase. Cumnock recommends purchasing your tickets in advance and plan to come early and during the week. You can find The Trains at NorthPark depot on the 2nd floor ​between Neiman Marcus and Nordstrom.
Got a tip? Email Gila Espinoza at gespinoza@kera.org. You can follow her on Twitter @espinoza_kera.
Art&Seek is made possible through the generosity of our members. If you find this reporting valuable, consider making a tax-deductible gift today. Thank you.