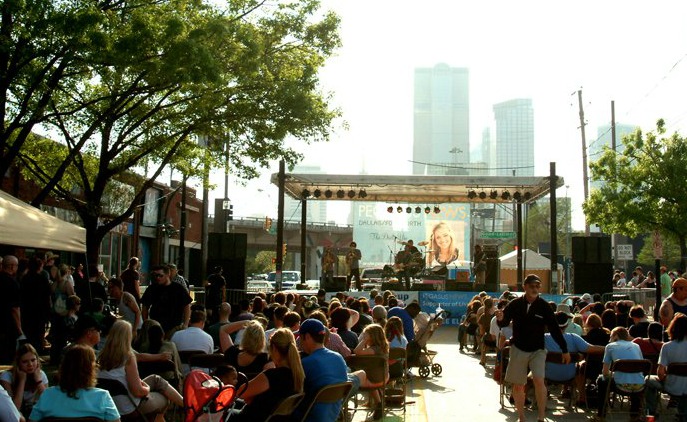 It's a fact: The best things in life are free … street festivals. They're low in stress and high in fun — and calories.
That being said, it's not often you find a free street fest like this year's Deep Ellum Arts Festival. Featuring 100 performing acts, 200 art vendors, a doggie parade, chic food and some seriously prime people-watching, this fest is probably worth more than your average paid-entrance festival.
Bring cash, though. With all that stellar art, you probably won't leave empty-handed.
Deep Ellum Arts Fest
runs Friday, April 1 through Sunday, April 3. Admission is free. Dogs are welcome on Sunday.
For its 22nd year, the Deep Ellum Arts Fest has moved and expanded, shifting a few blocks down. No worries! Navigation is a breeze. It's still on Main Street, and it's still in Deep Ellum, filling six blocks (2900-3400) in the Entertainment District. Here's a handy map: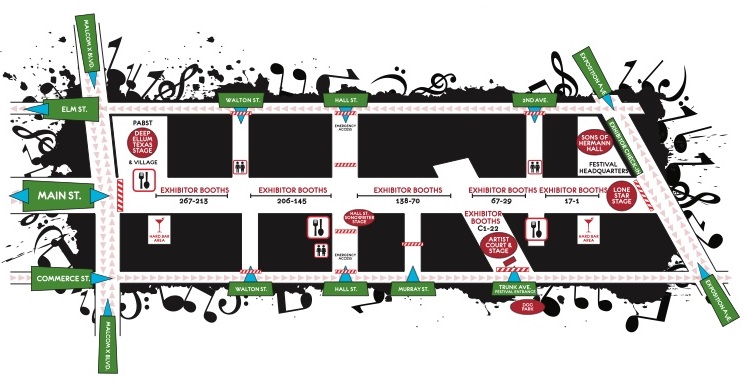 ARTS:
One afternoon at Deep Ellum Arts Festival could probably triple your art collection. With nearly every art form (and price range) represented, you're sure to find something to suit your fancy. You can support artists both local and national by purchasing,  commissioning, or simply admiring work from one of these notable vendors:
Kat Libretto: A printmaker from Allen, Libretto's colorful and gorgeously detailed silkscreen prints are a sight to behold. Find her at booth 113.
Kim Jackson: DFW native Jackson has made waves online, using cigar bands to create mega-impressive mosaic portraits of familiar faces, like Al Capone or Clint Eastwood. Find her work in the Artist Court.
Sugarpost Metal Art: At booths 165 and 167, you'll see some really funky metal art from Salt Lake City's Fred Conlon. Do you need a drink caddy? Would you like it to double as a goofy metal turtle? Look no further! Sugarpost has you covered.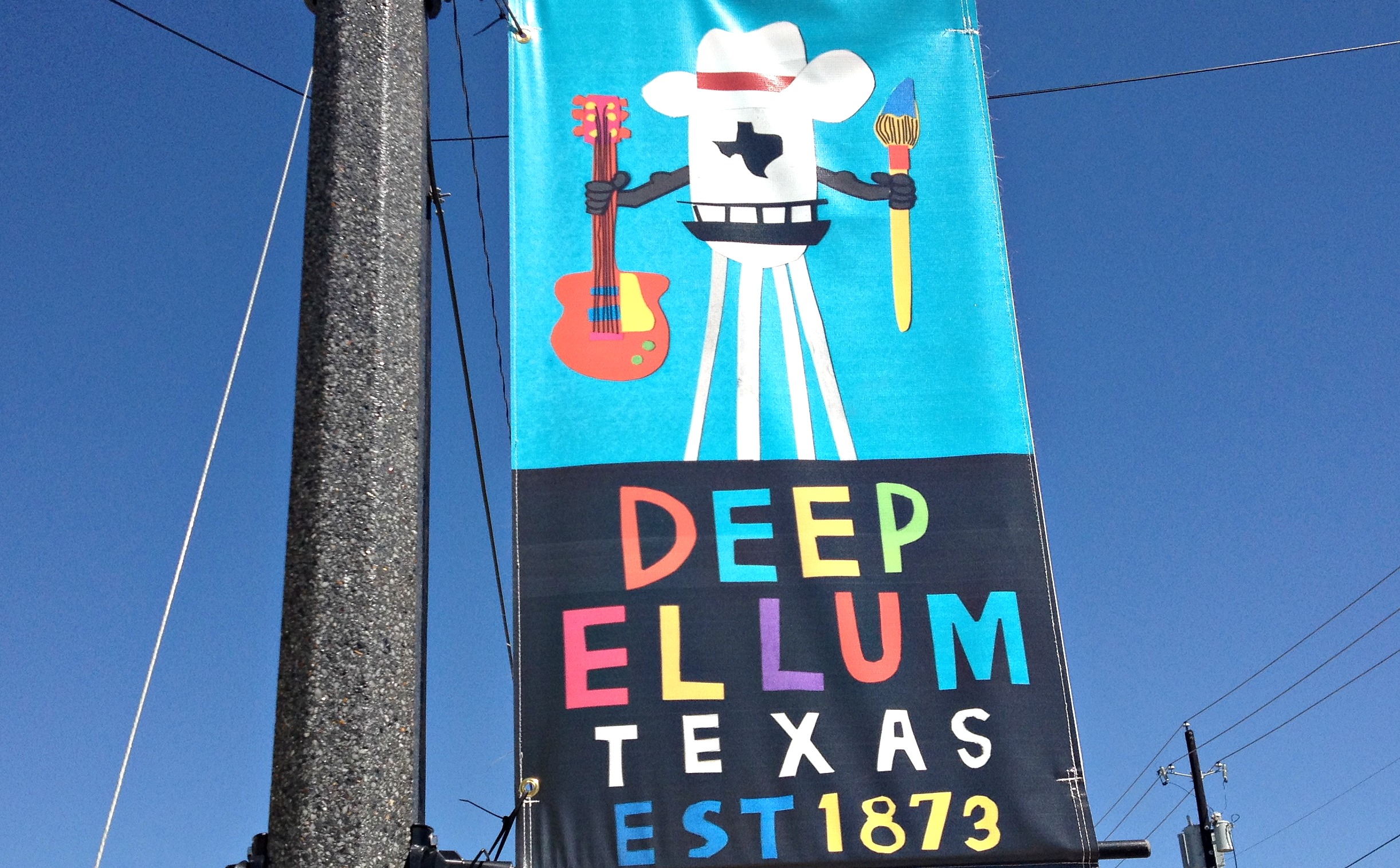 MUSIC:
This year's musical lineup is a tremendous value for a free-admission festival, but with nearly 100 bands on four stages, it can seem a little daunting. Plus, on the performance side, you can even sign up to spout your stuff in the Dallas Poetry Slam. Go wherever your ears take you, but be sure to pencil in:
Dead Beat Poetry: Self-described "bathroom graffiti music" group "Dead Beat Poetry" are one part dirt and two parts groove. Start your festival with them Friday at 12:40 p.m. on the Hall Street Songwriter Stage.
Intake and Hello Shannon: The Cambacho's are a gem and so is their music. If you're into indie-pop done well, catch their respective bands, "Intake" and "Hello Shannon" at the Pabst Deep Ellum Texas Village Stage, Saturday at 12:40 and 1:50 p.m., respectively.
Brave Combo: Probably the only Grammy-winners on the bill (and likely the only polka act), Brave Combo are a serious treat. Listen: If seeing Brave Combo for free doesn't make you happy, then you're probably not going to enjoy anything — ever. Catch them at the Texas Lone Star Stage, Sunday at 3:10 p.m.
Check out the full music schedule here.
PET PARADE:
Sweater weather may be long gone for your four-legged friend, but you may want to break out your best doggie tutu, sunglasses, and/or wrestling singlet for Sunday's crowd-favorite pet parade. All well-mannered dogs are welcome to participate in the parade, and prizes will be awarded for those with the best costumes, tricks and personalities. You and your pooch may register early online, or on-site Sunday.
FOOD:
For $10 you can get 10 coupons to exchange for food and beverages from vendors representing local and national cuisine. Deep Ellum gastro-faves are in attendance, creating a mini-village inside the fest, alongside loads of other quirky concessions. Hit up:
Elbow Room: Deep Ellum's own Italian joint is selling samples of their pizza, Stromboli, and everything else perfect in this world. Carbs don't count on April Fool's Day, you know.
A Taste of New Orleans: Order the fried boudin (BOO-dan) balls before they're made illegal or declared a "controlled substance." Seriously.
Cold Beer Co.: Get the Expo Dog. It's a hot dog with mac 'n cheese, sport peppers and bacon on it. I don't have to tell you why.