Deep Rooted Efforts To Prevent Suicide in Deep Ellum
ArtandSeek.net
October 19, 2016
23
Music and art have thrived in Dallas's Deep Ellum neighborhood since the 1920s. But over the past six years, at least a dozen of the artists and musicians that called those four blocks their creative home have taken their lives. Fortunately, there's a group in Deep Ellum with deep roots to the neighborhood and its music scene that hopes to prevent suicides in the creative community. 
Walking up and down the streets of Deep Ellum is a sensory experience. The air smells like barbecue. Murals plaster the walls. And just about everywhere you go you can hear music.
Even on weeknights, you can see several musicians performing on street corners and the local clubs like, Trees and Three Links, are filled with music fans listening to performances.
Anthony Delabano says Deep Ellum is like a little slice of New York in Texas. He would know. Delabano knows Deep Ellum well. He, along with his friends, pretty much grew up here.
"I was in a band called Spector 45. I started the band when I was about 15 years old with my best friend Frankie Campagna," says Delabano.
Spector 45  was a punk band with a greaser aesthetic. Delabano, Campagna and their bassist Adam Carter performed in the band for almost a decade. Everyone knew who they were. The Dallas Observer even named them the "Best Punk Act" in 2010. But very soon after that everything changed.
"In January of 2011, on New Year's Eve, Frankie committed suicide," says Delabano.
Friends say there were signs that Campagna was having difficulties, but Delabano says that Campagna was the strong one in the group. He says that all of the members of Spector 45 had problems but that they talked and he wouldn't have guessed this was going to happen.
Soon thereafter, tragedy struck again. In March of 2011, Adam Carter also committed suicide. Delabano felt like a sole survivor and he struggled with that.
"I wanted to die too. I had had enough," says Delabano. "I struggled for several years just trying to live life with sanity after all of that. Fortunately, I was able to get myself back on my feet again. Unfortunately, people in our community kept dying."
And that's why Foundation45 was founded. The support group started about a year ago. Meetings are every Monday in a loft in Deep Ellum. It serves about a dozen artists, musicians and actors who come from as far away as Addison.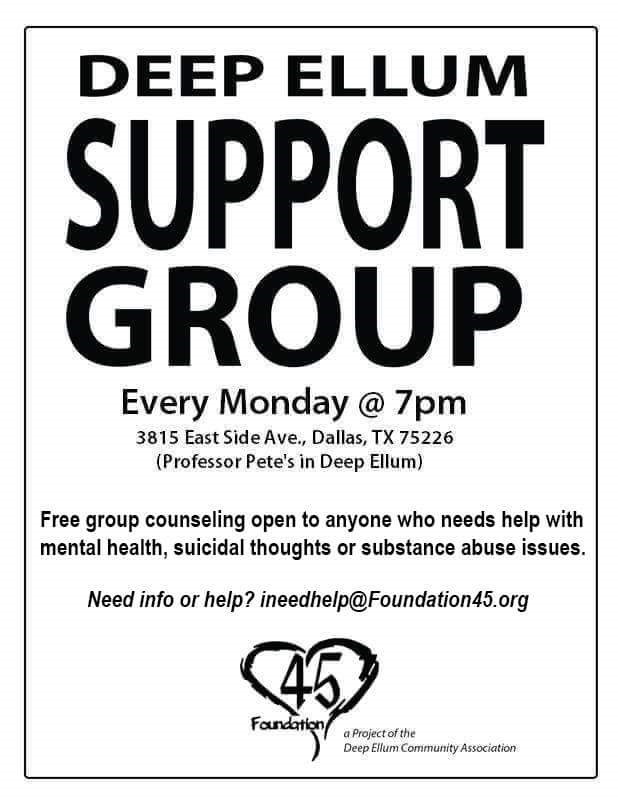 Organizers of Foundation45 say what they provide for people are other people who let them know that they're not alone. They say they want people who come to their group to know that it's okay to crummy and that it's okay to have bad days. They think there are others who need these services and hope to reach them.
Research shows creative types are often at a higher risk for mental health issues and addiction, yet there are few programs tailored for them. One study found artists are almost three times more likely to commit suicide than non-artists.
Kyle Harris, Foundation45's Chief Operations Officer, believes artists can have misconceptions about dealing with mental health challenges. He says, "So many people in the arts see that darker side of them as really a source of creativity and that if they address and fix it that that creativity goes away."
Comedian Bobby Friske used to believe that. After attending Foundation45 group sessions and realized it's not true. And he says what Foundation 45 and their counselors are doing is unique.
"The counselors, they're saying 'look we're flawed. We're just as flawed as anybody. And they don't mind cursing. And they do have tattoos. And so I think that helps put people at ease," says Friske.
Zandra Ellis is one of two counselors who work with Foundation45.  She says she can see where clients are coming from because she has mental health struggles too. She's been diagnosed with Post Dramatic Stress Disorder, major depression, general anxiety disorder and she has an eating disorder. She's also a licensed chemical dependency counselor. And she's from Deep Ellum, so she can relate to clients in that way too.
"I have been a lover and citizen of Deep Ellum since I was 11 years-old and I'm 37 now," says Ellis. "I can't express to you what Deep Ellum means to me. I love that neighborhood."
Ellis says that as a young black girl that loved speed metal and punk rock that Deep Ellum was the first place she felt at home. So helping people from this place is personal to her.
"We've unfortunately had people commit suicide this year. I mean there's no way that we can stop every person, but we can reach a whole lot of people," says Ellis.
And maybe that will help some people get through the hardest times. Anthony Delabano thinks it could.
"I think that if Adam, Frankie and I had something like Foundation45 that it would have been a lot different," says Delabano.
Luckily, if you are having an issue Foundation45 is available to you. If you are having suicidal thoughts or simply considering doing something to hurt yourself, we implore you to reach out to someone. If you don't think that you have anyone to talk with then call 1-800-273-TALK (8255). If you would prefer to not speak with anyone, then text 741-741.