Downward Dog In D Flat: Yoga For Cliburn Amateurs
ArtandSeek.net
June 24, 2016
5
This morning, the piano bench in the Van Cliburn Recital Hall was empty. Instead, competitors in the Seventh Cliburn International Amateur Piano Competition were sitting on the floor. With their legs tucked criss-cross under them, they focused on their breathing and listened to Kristen Queen.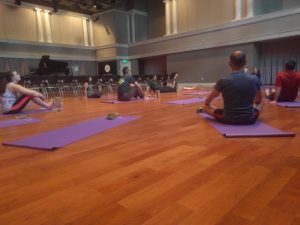 Queen is an assistant director at Texas Christian University, where she teaches "Yoga for Musicians," inspired by her own experience playing the flute and practicing yoga. She brought that course to the Cliburn today, inviting contestants to spread out on her mats and breathe. Her focus was two-fold: she wanted to alleviate physical stress, but she also wanted to help the pianists find "positivity and affirmation" in a stressful week.
She says musicians grow accustomed to a certain way of playing their instrument and may not move for many hours, "mindlessly" using their body without considering how it actually feels and quieting pain signals. For pianists, this can mean hunching over the keys, tensing up in the shoulders and even sitting uncomfortably on the bench. Queen doesn't intend to retrain the pianists to sit properly — there would be no sitting at the piano, she told them at the beginning of the session. Instead, she hopes to help foster an awareness in them of what their body is doing.
"I want them to just wait," she says. "Imagine watching a sporting event and using a slow motion camera. Before you even play a note, what does it feel like? Just scan the body."
In the session, she instructs participants to breathe through their noses and find calm. She tries to create a space that delivers affirmation rather than judgment.
"When you're in a competition, you can get into a very negative head space, a very judgmental place," she says. "Hopefully this will allow them an opportunity to find some positivity in the moment, and maybe next time they go into a practice session, they'll remember bits and pieces of this class."
At the start of the class she asked her students if it was their first yoga lesson, and about half of participants raised their hands. Others were old-timers, like Italian competitor Marco DiMarzio.
DiMarzio has been practicing meditation, as well as some yoga, for years now, and they've become important pieces of his life. He feels that they seep into everything he does, in his work life, his physical activities and his music.
"It helps calm these compulsive thoughts," he says of meditation, so he can focus entirely on the piano. It's not an immediate solution, he stresses, but over time the practice has taught him to channel his focus, and he thinks that helps him on the stage.
Since they are amateurs, many of these pianists will return home soon to their regular jobs and activities that don't involve sitting at a piano. For Queen, that doesn't make the session any less useful.
"I choose different positions and sequences that apply specifically to musicians," she says, "but the truth is, there should be a yoga for everything. Yoga for athletes. Yoga for people who sit at a desk. There are so many different ways we mindlessly use our bodies."