DSO's Van Zweden Is Going To The New York Philharmonic
ArtandSeek.net
January 27, 2016
7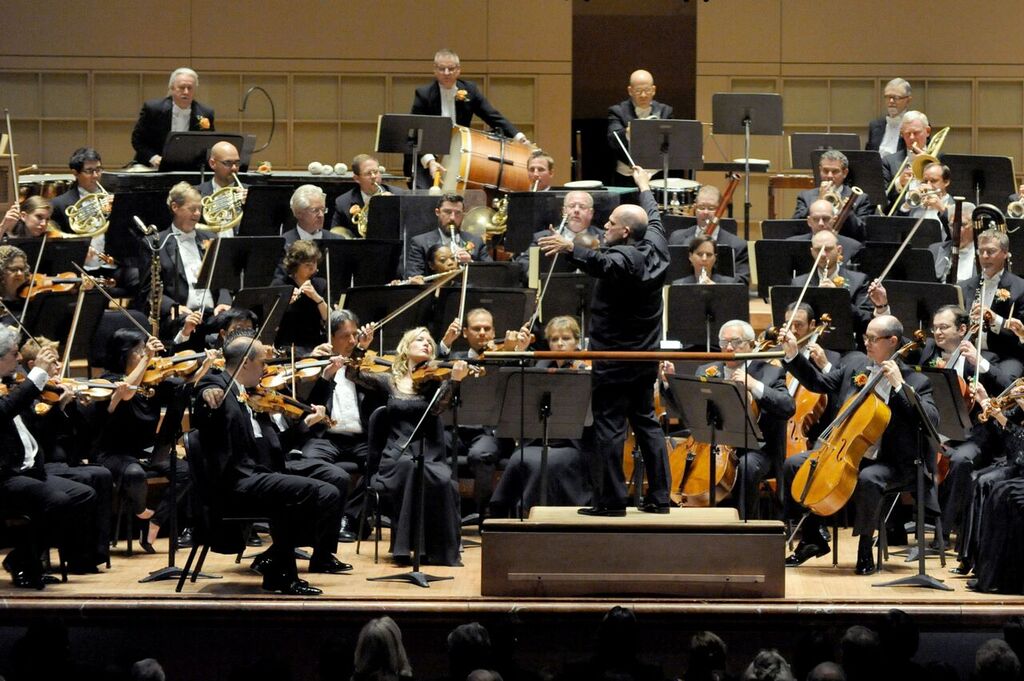 It means he'll be returning to where he first set foot in America — as a 16-year-old music student from Amsterdam, Jaap van Zweden studied violin at Juilliard.
But not everyone is happy with the choice. This is NYTimes critic Anthony Tommasini:
"For the Philharmonic post, I thought Mr. van Zweden would be too predictable a choice — a solid, disciplined, middle-aged European maestro — to follow Mr. Gilbert, a youthful native New Yorker who has brought the orchestra vision and innovation. Even those who haven't found him to be the most engrossing interpreter of repertory staples must credit Mr. Gilbert with emboldening the Philharmonic at a time when strong artistic purpose and outreach are crucial to the future of classical music.
So I was wrong. The Philharmonic has made its choice. Mr. van Zweden is an accomplished artist and a feisty podium presence who exudes energy. Those of us who want this institution to thrive should offer congratulations and wish him success.
Still, my feeling lingers that his appointment represents a safe course. I've long argued that orchestras everywhere, but especially in America, worry too much about how they play and not enough about what they play and why they play it."
But here is the New York Philharmonic's press release, followed by the Dallas Symphony's release:
JAAP VAN ZWEDEN NAMED NEXT MUSIC DIRECTOR OF THE NEW YORK PHILHARMONIC
Initial Five-Year Contract To Begin in 2018–19 Season Van Zweden To Serve as MUSIC DIRECTOR DESIGNATE in the 2017–18 Season
New York Philharmonic Chairman Oscar S. Schafer and President Matthew VanBesien today
announced that conductor Jaap van Zweden will become the Orchestra's next Music Director,
beginning in 2018–19, the Orchestra's 177th season. Mr. van Zweden will serve as Music
Director Designate in the 2017–18 season.
As the New York Philharmonic's 26th Music Director, Mr. van Zweden — who has been Music Director of the Dallas Symphony Orchestra since 2008 and Music Director of the Hong Kong Philharmonic Orchestra since 2012 — will succeed Alan Gilbert, whose tenure began in 2009 and culminates in the 2016–17 season. Mr. van Zweden will become Music Director Designate in the 2017–18 season, when he will conduct several weeks of concerts. In the 2018–19 season he begins his tenure as Music Director, conducting the New York Philharmonic for 12 weeks each year, leading the Orchestra on national and international tours and residencies, and guiding the Philharmonic through the planned renovation of David Geffen Hall.
Acclaimed for superb performances and orchestra-building in Dallas and around the world,
Amsterdam-born Jaap van Zweden was appointed at age 19 as the youngest-ever concertmaster of the Royal Concertgebouw Orchestra, and began his conducting career 20 years later in 1995. It was upon the encouragement of Philharmonic Laureate Conductor Leonard Bernstein, during a rehearsal of Mahler's First Symphony there, that he first took up the baton. His appointment as Music Director of the New York Philharmonic will be a homecoming for Mr. van Zweden, who was trained as a violinist at The Juilliard School.
Mr. van Zweden made his New York Philharmonic debut on April 12, 2012, and has returned regularly, most recently in October 2015. During the 2016–17 season he will lead the New York Philharmonic in a program featuring the New York Premiere of a Viola Concerto by Julia Adolphe written for Principal Viola Cynthia Phelps.
"On behalf of the search committee and the entire New York Philharmonic family, I am thrilled to name Jaap van Zweden as the New York Philharmonic's next Music Director," said Philharmonic Chairman Oscar S. Schafer. "I'd like to sincerely thank the committee and its chair, J. Christopher Flowers, which was unanimous in its choice of Mr. van Zweden, who demonstrates the highest level of music making, befitting this excellent Orchestra, as well as an infectious enthusiasm and dedication toward taking this great institution into the next era."
"Having experienced his passionate and dynamic artistry with the New York Philharmonic over four appearances in the last four years, I believe Jaap van Zweden is not only a logical choice for the Philharmonic's next Music Director, but an incredibly inspired and exciting one," said Philharmonic President Matthew VanBesien. "As both a strong musician and leader, Jaap brings energy and electricity that mirror our hometown, the great city of New York, and his deep commitment to the music itself promises many thrilling performances for our audiences. Moreover, Jaap will be an engaged, visionary, and dedicated partner in building the future of this Orchestra, including the planned renovation of David Geffen Hall, activities during the renovation, and the eventual return to our concert home."
"This is one of the happiest and most fulfilling days of my life," said Jaap van Zweden. "To be asked by the great musicians of the New York Philharmonic and by the Board of this iconic institution to be its Music Director is truly an honor. As musicians, we strive to achieve the best for our audiences in sharing the music of so many gifted composers of the past and present as we look to the future. My heart is full, and my family and I look forward to being true New Yorkers, as I was during my Juilliard days."
"I am very excited that Jaap van Zweden will be the Philharmonic's next Music Director, as is the rest of the Orchestra," said Fiona Simon, Chairperson of the Orchestra Committee. "He is an outstanding musician who brings a special type of energy to the podium that will be inspiring to both musicians and audiences. In Jaap we have a strong musical partner whose commitment to the Orchestra will ensure performances of the highest art."
The DSO release:
The Dallas Symphony Orchestra congratulates Jaap van Zweden on the announcement of his appointment as Music Director of the New York Philharmonic beginning in the 2018-19 season.
DSO is proud to have been an integral part of Maestro van Zweden's exciting musical journey. We look forward to continuing our artistic path together through the 2017-18 season, which will be his final season as DSO Music Director.
This morning, the Dallas Symphony Orchestra is pleased to announce that following his tenure as our Music Director, he will hold the title of Conductor Laureate of the DSO starting with the 2018-19 season and going through 2020-21, ensuring a robust conducting presence with us.
"We thank Jaap for his years of artistic leadership and guidance," said Joseph F. Hubach, Chairman of the Dallas Symphony Orchestra Board of Governors. "He and the musicians of the DSO have worked tirelessly to advance the level of artistry of the organization, and they continually perform concerts that thrill and excite. We are looking forward to extraordinary music making for the next 2 1/2 years with Jaap as Music Director, and for an additional three years as Conductor Laureate."
"The velocity of artistic growth of the Dallas Symphony in the past seven-plus years under Jaap's leadership is unprecedented in modern orchestra history", added Jonathan Martin, President & CEO of the Dallas Symphony Association. "Jaap brings to the podium an intense focus, discipline and adherence to the very highest standards, and it is revealed every time he makes music with the outstanding musicians of the DSO. I am looking forward to working with Jaap in the coming years as this growth continues."
Jaap van Zweden has asked us to share the following message with you: "As excited as I am about my new appointment with the New York Philharmonic, I continue to be gratified by the work we have done and will continue to do in Dallas. During my last seasons and into my role as Conductor Laureate, the DSO musicians and I look forward to sharing wonderful musical experiences with you our audiences. It all started with the Dallas Symphony Orchestra, and this is something that I will never forget."