Emily St. John Mandel Talks Airplanes And The Apocalypse
ArtandSeek.net
June 24, 2016
11
At 18, author Emily St. John Mandel left her tiny island in British Columbia for school in Toronto, and, eventually, the high-rises of New York City, flying "from one life to another." So she knows the power of travel, and since her award-winning 2014 novel "Station Eleven" became a post-apocalyptic sensation, she's seen more than a few airports.
DMA Art & Letters Live: Emily St. John Mandel. Friday, 7:30 p.m.
Tickets
.
Still, she says that when she's at home with her family and spots an airplane, she's actually pretty happy to be on solid ground.
For many of the characters in "Station Eleven," airplanes are just a memory from a long-lost world. The book follows a band of Shakespearean actors twenty years after a flu pandemic that wiped out most of the world's population, traveling through a nearly empty world. The actors stop at various towns, some in the grips of religious cults, performing plays and delivering orchestral music. One self-published comic book, the novel's namesake, survives the collapse and ends up in the hands of one of the actors, weaving together the pre- and post-apocalyptic threads of the story.
Art as antidote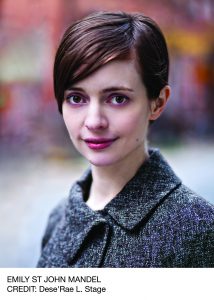 "Station Eleven" was Mandel's fourth book and first hit, gripping the nation with its optimistic view of post-apocalyptic civilization. The acting troupe's motto, "Because survival is insufficient," is lifted directly from Star Trek, which Mandel will admit unabashedly. It's not just a motto though — Mandel sees it as a fundamental idea, in the book, in her own life and in the world. For her characters, art is an "antidote" to the harshness of life in a post-apocalyptic world. For her, it serves a similar purpose.
When her life has been challenging, she has turned to art to make her "excited about the world" again. That meant writing around her part-time job as an administrative assistant in a cancer lab for many years. One of the book's protagonists, Miranda, works as an administrative assistant in an office while penning the novel's namesake comic in her spare time. She's also from a tiny island in British Columbia (pop. 1,022) that differs from Mandel's hometown only in name, which makes her easily Mandel's most autobiographical element in the book.
"I'm very used to that phenomenon of trying to balance your art around the margins of a day job," Mandel says. "So it's a real similarity there, in the sense of what it means to live a double life."
The year of "Station Eleven"
Of course, "Station Eleven" changed all that. Less than a year ago, Mandel quit her day job, thanks to the novel's success. With great success also came one of the strangest years of her life: her book tour was a seemingly endless parade of hotel rooms, airports and venues, all of which are slightly blurred now in her recollection, almost dream-like. Between lovely moments in cities that she can't remember and answering the same questions over and over again, Mandel says she actually felt "Station Eleven" becoming more and more abstract to her.
"At this point, I'm pretty sure I wrote 'Station Eleven!'" she says, laughing. "It's taken on a life of its own. The more the book is read and discussed and engaged with by other people, the more it feels like something that almost has nothing to do with me anymore."
So she's glad now that airplanes and travel have become an occasional privilege, "best done in moderation," rather than a way of life. Part of that is deeply personal: she found out she was pregnant on that tour. She's not actually sure she would be able to write "Station Eleven" again, in part because she's said all she wants to say about the apocalypse, and in part because she's a mother now.
"If it's just you, you can think about the distant future in a very abstract kind of way," she says. But if you have a child or you're close to one, "you can't help but look at them and think, the future isn't abstract! The future is your life."
The future
Still, she's mostly an optimist. "Station Eleven" steers clear of horror — in some ways, with its focus twenty years after the collapse, well past the chaos of the immediate aftermath, it's one of the least "apocalyptic" books in the genre. The world that the reader finds is more tranquil, with a revived interest in culture: the troupe encounters one character who runs a newspaper, another who is curating a museum. All of which, Mandel hopes to convey, is temporary.
"It was interesting to think about this idea that the world will keep changing," she says. "The world of the symphony is not the world that is going to last forever."
But its temporary nature doesn't make it any less important. In Mandel's words, this post-apocalyptic world comes to life, and it's beautiful. One chapter starts: "What was lost in the collapse: almost everything, almost everyone, but there is still such beauty. Twilight in the altered world, a performance of "A Midsummer Night's Dream" in a parking lot in the mysteriously named town of St. Deborah by the Water, Lake Michigan shining a half mile away."
"Station Eleven" is also being made into a movie, though Mandel says she's removed from that process, and she doesn't mind. She's not afraid the film will be different from the book — she's actually excited to see what different ideas the filmmakers will come up with based on the same material.
As for her next project? She's keeping it under wraps for now. After all, she'll probably end up talking about it more than enough.
Emily St. John Mandel will be speaking tonight at the DMA Arts & Letters Live on hope and art after the apocalypse.