Mort Meyerson Symphony Center Architect I. M. Pei Has Died at 102.
ArtandSeek.net
May 16, 2019
22
Architect I. M. Pei may be internationally famous for designing the glass pyramid entrance to the Louvre museum in Paris in 1989 – or even, perhaps, for the Rock and Roll Hall of Fame in Cleveland. He has left major works in Boston, Washington and China – but in North Texas, he'll always be known for the Meyerson Symphony Center. It opened the same year as the Grand Louvre and is widely considered one of the finest concert halls in the world. Former Dallas Symphony conductor Jaap van Zweden called it "the pearl in the crown of this city." You can read more about the entire development of the hall in Art&Seek's 25th anniversary celebration and history, Secrets of the Meyerson. In 1990, KERA also produced a television documentary, 'Frozen Music' (above).
The New York Times reports that Pei's son, Li Chung Pei, said his father had died overnight. After officially retiring from his firm, Pei Cobb Freed & Partners in 1990, Pei continued to work as a consultant with his son's firm, Pei Partnership Architects.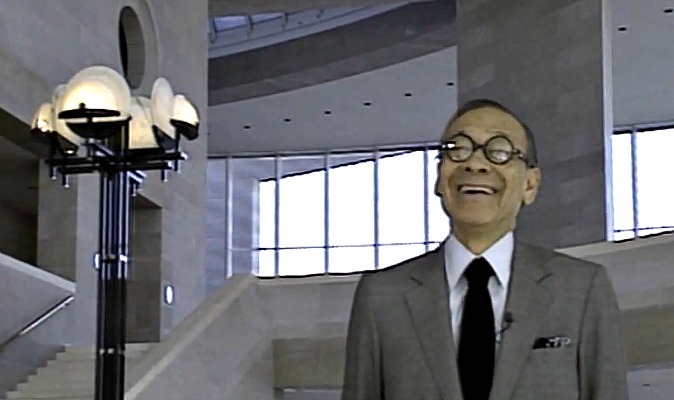 Ieoh Ming Pei was born in 1917 in Guangzhou (formerly known as Canton) in southern China but grew up in Hong Kong and Shanghai. He moved to America in 1935, enrolling in the University of Pennsylvania's architecture school but eventually graduating from MIT. He joined the Harvard Graduate School of Design and became friends with such modernist pioneers as Walter Gropius and Marcel Breuer. Beginning in 1948, he launched his professional career with the New York City real estate tycoon, William Zeckendorf, and his firm Webb & Knapp. This meant, as a young graduate, Pei was already overseeing major high rises. Within seven years, he started his own firm, I. M. Pei & Associates.
But his firm mostly continued working for Zeckendorf on building projects like Society Hill Towers in Philadelphia in 1964. Despite such a young start, it really wasn't until 1979, when he designed the John F. Kennedy Presidential Library in Boston that Pei established himself nationally as an independent, creative force in the field. Pei called the building the "most important commission of my life."
A dapper man, Pei was known for his understated manner and good humor but that didn't mean he wasn't ambitious: One reason he was convinced to design the Meyerson was simple enough. He'd never designed a major concert hall before, and it was a challenge to make it superb, distinctive, innovative – a capstone. Many of the greatest architects never had such an opportunity – because major new symphony halls don't come along that often.
The Meyerson reflects some of the best elements of Pei's mature style, a sophisticated and elegant form of modernism that evolved out of the typical concrete-and-glass-box skyscrapers. At his best,  he created crystalline, precise, knife-edged shapes like the Grand Louvre, the Bank of China Tower in Hong Kong and Dallas' own Fountain Place. Pei often stacked fundamental shapes to create his buildings – notably the Museum of Islamic Art and the Embassy of the People's Republic of China in Washington. But with the Meyerson, Pei combined two shoe boxes, pivoted the top one – and thus both softened and complicated the building, gracing it with arcing windows and an airy, dazzling lobby that is an engineering feat, all of it secretly bolted together by a cross-beam and a hidden steel ring.
In 1980, Pei initially turned down the offer to design the Dallas Symphony's new concert hall. When the list of six finalists was revealed that year, he wasn't on it. But the committee overseeing the design and construction of the new hall couldn't reach a consensus. So Stanley Marcus, the founder of Neiman Marcus, flew to New York to ask Pei to apply. On December 30, 1980, Pei was announced as the committee's choice.
Ironically, Pei already had a long but somewhat troubled relationship with Dallas, having designed Dallas City Hall in 1978, when the architect was just making his name for completing the East Building of the National Gallery of Art in Washington, D. C.  The Dallas tie was ironic because the costs for building Dallas City Hall nearly doubled – a fact that would haunt the Meyerson's creators as its own costs went up. What was also highly unusual with the Meyerson – and a great source of headaches – was that the brilliant but unconventional Russell Johnson was given co-equal status as the acoustic designer. His clashes with the equally stubborn Pei – plus the furor over the building's costs – nearly scuttled the project.
If the Meyerson and Fountain Place represent Pei at his cool and elegant best, Dallas City Hall represents his earlier, concrete-heavy style, influenced strongly by Le Corbusier. Pei was brought in by then-Mayor J. Erik Jonsson to help counteract the city's lingering reputation as the city where President Kennedy was assassinated with a signature civic building. Pei consulted with Dallasites and surveyed the surrounding buildings – his typical process. Despite what many people now see as a hulking blockade — the building later became famous as the base for the headquarters of the evil corporation OCP in the 1987 dystopian film, Robocop – Pei consciously angled the building to provide shade on what can otherwise be a barren, sun-baked plaza. As a low, long, wide building, City Hall was also intended to counter the city's tall corporate towers with what the architect himself called a "symbol of the people."
Regardless of City Hall's faults (and it was hailed by many Dallasites when it opened – after 11 long years), Pei became one of the most influential designers in shaping the downtown Dallas skyline. His efforts include One Dallas Centre (1979), the Energy Plaza (1983) and perhaps most graceful of all, Fountain Place (1986 – with Henry Cobb of Pei Cobb Freed & Partners as design partner, and Dan Kiley and Peter Walker as the waterscape architects). He also designed one of his rare homes in Fort Worth – for the Tandy family.
.
In later years, Pei became the epitome of the globe-trotting, internationalist designer, guiding such projects as the Chinese embassy in Washington, D.C., the Miho Museum in Kyoto, Japan, the Museum of Islamic Art in Qatar and the Macau Science Center in Macau, China.