Review: Houston Grand Opera's 'Siegfried' And Houston Symphony's Bruckner
ArtandSeek.net
April 18, 2016
8
HOUSTON — The Houston Grand Opera's hallucinogenic Ring cycle resumed on Saturday night with 'Siegfried.' Performances will continue through May 1. The cycle's fourth opera, 'Die Götterdämmerung,' will conclude Wagner's epic next season.
Like Houston's preceding 'Das Rheingold' and Die Walküre, this Siegfried is full of visual gee-whizzery. There are many "How-on-earth-did-they-do-that?" moments — so many that the visual element threatens to run away with the show.
What prevented that on Saturday night was an exceptional vocal cast and a superb performance by the Houston Grand Opera orchestra conducted by Patrick Summers.
The company seemed to be aiming for a quasi-Bayreuth effect at the very beginning. The lights went out in Brown Theater of the Wortham Theater Center (the orchestra's lights as well as the audience's) so that the conductor was invisible to the audience and therefore not greeted by applause. Soon the lights in the pit came up a bit, but the message was clear — the focus was to be on the music, not on the man with a stick.
But the visual gimmicks and 3D computer projections started right away. The background of Act 1 was what looked like a giant factory interior with many intricate machines moving in sync. What they did or made was not clear, but the whole did create a rather ominous effect, especially one episode in which butchered humans, hung by their heels, were moved along by a line of hooks like so many sides of beef.
There were many other attention-grabbing moments — too many to list here — but some of the most striking were an annular eclipse in which a large, rugged earth fronted and then was subsumed into a boiling, fiery sun; X-rays of human spines; a river of flowing red blood cells; a giant, slowly blinking eyeball belonging to Erda.
Pleasant, non-threatening sights were not neglected; these included a super-scenic flight along a snowy mountain range and a sweetly-singing, high-flying bird guiding Siegfried to Brünnhilde (soprano Mane Galoyan, the bird, obviously has no fear of heights).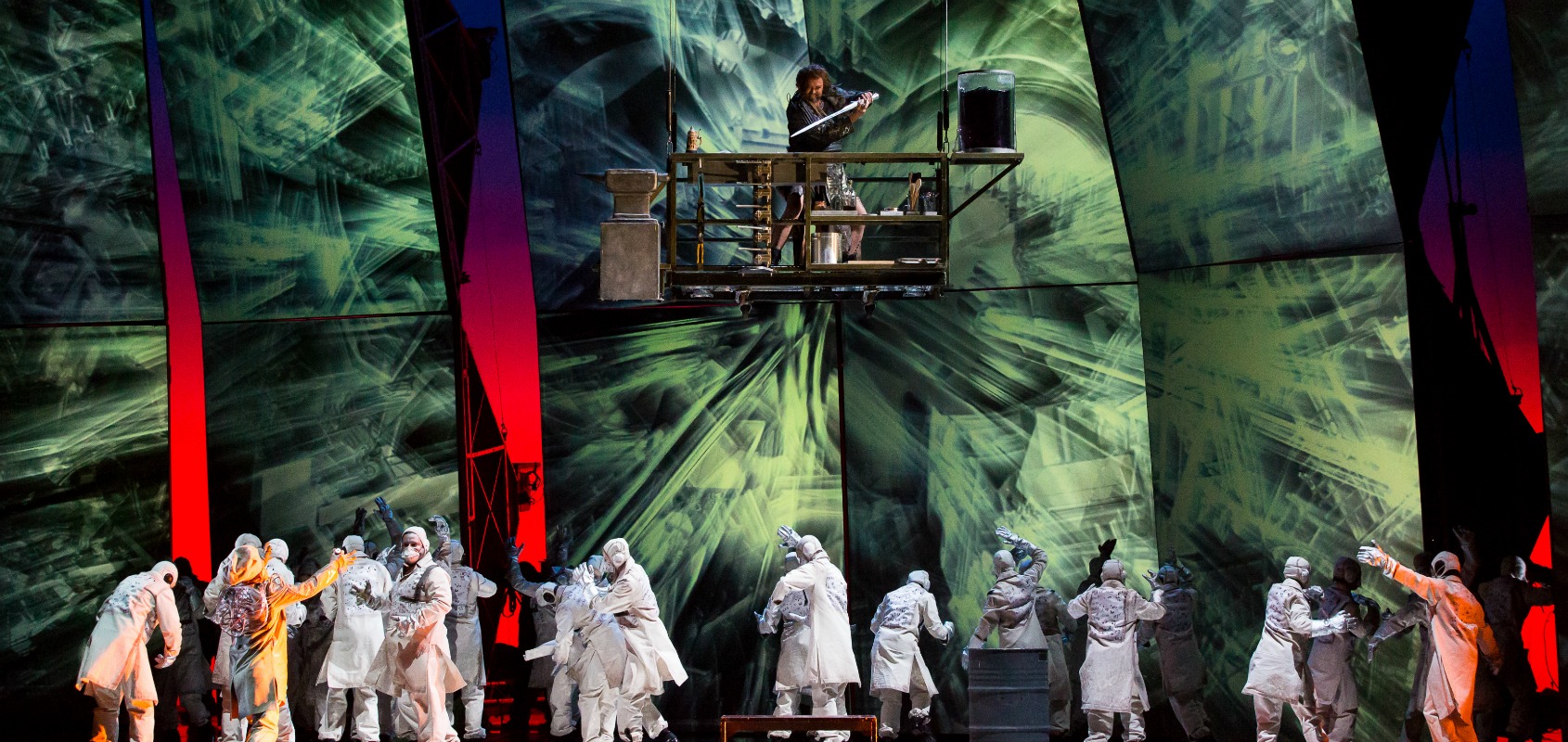 This is a show that would be impossible without a multitude of high-tech apparatuses. It's dominated by digital projections, with machinery for lifting and moving singers and very few conventional props. There's also an extravagant use of supernumeraries, who interact silently with the singers and perform choreographed movements of their own.
With all of the possibilities, it's surprising that there are a few less-than-spectacular episodes. Fafner the dragon, for one, is distinctly non-threatening. He looks like a misshapen, elongated box kite. Brünnhilde's horse is another disappointment.
It's a very European production — first presented in Valencia, Spain. The printed program credits La Fura dels Baus, a theater group once best known for the opening ceremony of the Barcelona Olympics in 1992 before it turned to opera, video and audience-participation street theater. Included among the Spaniards (director Carlus Padrissa, movement director Esteban Munoz, costume designer Chu Uroz) are a Dutch lighting designer (Peter van Praet), a German set designer and robotics expert (Roland Olbeter) and an Italian 'lighting realizer' (Gianni Paolo Mirenda).
With such a visually aggressive production, there's the danger that the drama will be undercut. I found that not to be the case. Not only were the singers and orchestra holding their own, but the often-spooky atmosphere of the sets enhanced the drama. (And it must be admitted, 'Siegfried' does have moments of tedium — here, one welcomed the distractions.)
The singers were first rate. As Siegfried and Brünnhilde, Jay Hunter Morris and Christine Goerke produced appealing tones while demonstrating power and stamina in notoriously difficult roles.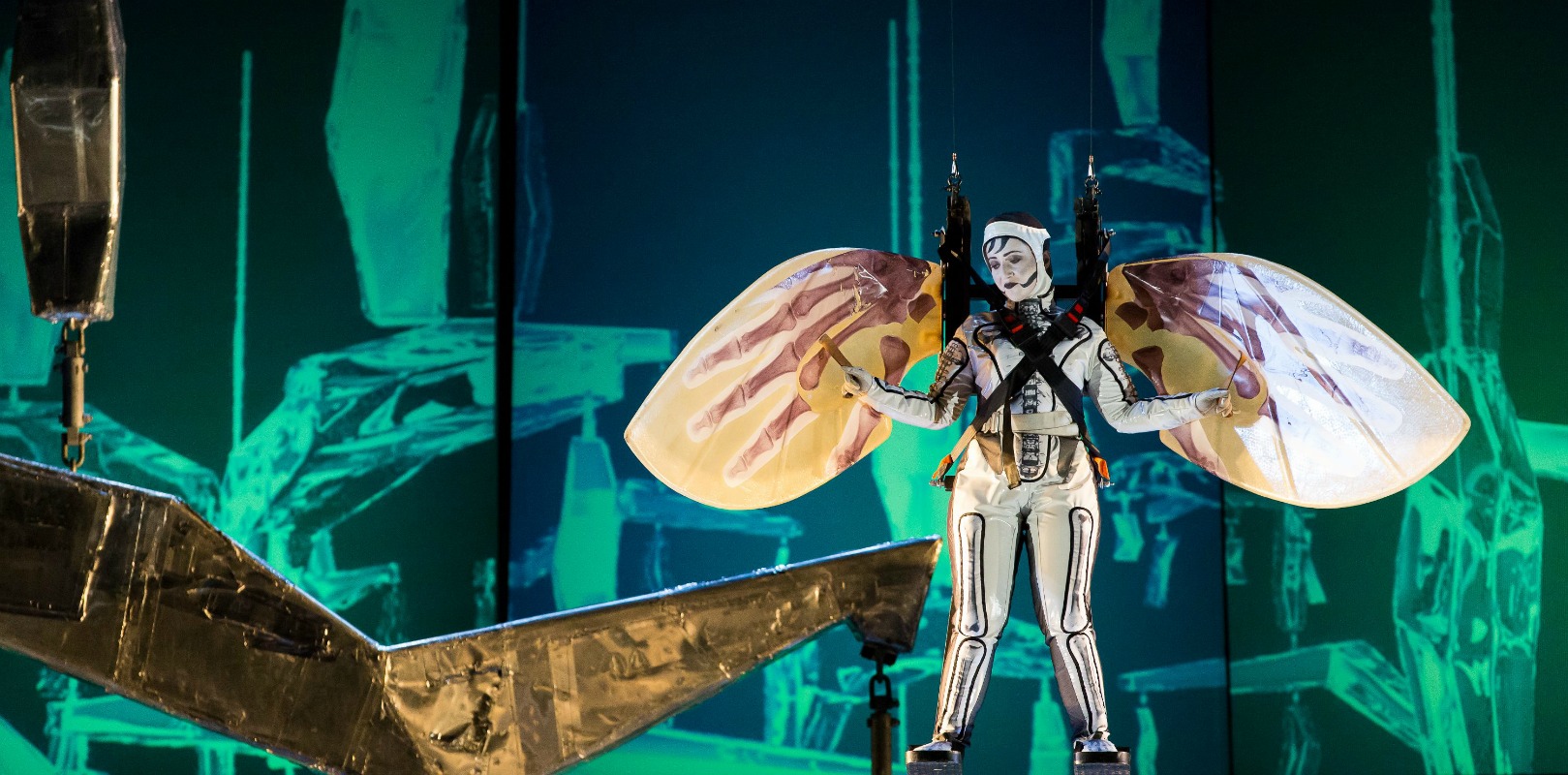 The remainder of the cast were a powerful, drama-enhancing team. They included Iain Paterson (Wotan), Rodell Rosel (Mime), Richard Paul Fink (Alberich), Meredith Arwady (Erda) and Andrea Silvestrelli (whose deep bass provided Fafner with the menace lacking in the giant's stage contraption).
Conductor Summers and the orchestra were powerful and consistent contributors to an evening of high drama.
Wagner wasn't the only composer providing high musical drama in Houston last week. On Thursday evening in Jones Hall a Danish guest conductor, Thomas Søndergård, led the Houston Symphony Orchestra through a thrilling performance of Bruckner's Symphony No. 7. The orchestra was in great form and the conductor, who is in his 40s, seems already to be a grand master of music.
Also on the program was Karen Gomyo, the soloist in Mozart's Violin Concerto No. 3. She'll be playing the same work next season with the Fort Worth Symphony Orchestra.