Shutterbugs, Foto Fest Will Send You All Around – And Above – Fort Worth
ArtandSeek.net
May 10, 2021
11
This week, the sixth annual Fort Worth Foto Fest presented by Fort Worth Camera, kicks off. This nine-day event features over 40 events across, and above, Fort Worth. The event not only offers workshops and lectures but a lot of fun hands-on activities at various locations across the city of Fort Worth.
MacKenzie Hughes owner of Fort Worth Camera describes Foto Fest as more of a carnival for novices, advance shutterbugs, and professional photogs.
Hughes is busy handling details running up to Friday's start of the event but he slowed down long enough for us to chat about Foto Fest.
What do you tell people who come into your shop and who are thinking of picking up a camera? Who might be intimidated by the equipment and accessories?
Well, Foto Fest is the remedy for that. Foto Fest is really the best way for someone to get comfortable with the concept of photography and definitely comfortable with their new instrument a camera. Because you are with people that are like you. There's going to be someone that's at your same level, either entry-level or enthusiast, to advanced amateur, to professional.  You're going to be meeting someone who's just like you.
Why do I need a camera when I've got a phone?
The phone is great. We won't lie to you that the phone is absolutely adequate. It's going to take pictures and after all, as we all say, the best camera is the one that you have with you. And if that's your phone, then that's fine. However, you're going to start realizing, the more pictures you shoot, the better your eye becomes. You start realizing the limitations, and that's where the camera comes in and you start getting more enthusiastic about taking pictures and you're going to want a better tool to do so. And that's where cameras come in. And that's where more fun comes into. You'll start to realize once you started playing with a real camera, how difficult it actually is to take pictures with the phone.
What kind of sessions and workshops do you offer?
Of the 40 events, they're all great. But we are proud of our continued relationships with many Fort Worth institutions that we have had for years and will team up with again this year. We go to the Fort Worth Zoo, the Modern Art Museum, and Joe T. Garcia's, places all across town. We have a sunset photoshoot on the river trail. We teamed up with the Tarrant Regional Water District to know where the really great photo opportunities are.
Which sessions do you think people are most surprised to hear you have at Foto Fest?
People are surprised about the aviation sessions. Because a lot of people say,  "OK, so we get to take a picture of an airplane while it's on the ground." That's only a small portion of it. We actually go up in the aircraft and photograph Fort Worth and Arlington. And that's on top of the historical, experience of the aircraft because they're old. So those are ones that call up a lot of different emotions and excitement levels.
Honestly, I think a lot of people are surprised by the things that are already here in Fort Worth that they typically just don't think of.  There are really great photo opportunities are in your backyard but people just never take advantage of it. So we really take advantage of it and get as many people together and shoot and have a great time. It ends up being just a fun social network and it's all based around photography.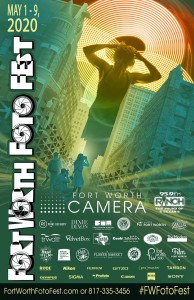 Titles to a few other sessions include:
Art Inspiration for Photographers
Andrew Klinger Photographs the Galaxies
Drone-Tography
Hidden Treasures of the iPhone
Keydrin Franklin's Portraiture
Next Level Social Media Skills
Newborn Photography
Professional Headshots
Check out their complete list of events. Fort Worth Foto Fest runs May 14-22.
You can follow Fort Worth Camera on social @fwcamera and #fwfotofest.
Got a tip? Email Gila Espinoza at gespinoza@kera.org. You can follow her on Twitter @espinoza_kera.
Art&Seek is made possible through the generosity of our members. If you find this reporting valuable, consider making a tax-deductible gift today. Thank you.