English Classes For Adults About To Change In Texas
Education.KERA.org
November 12, 2014
4
For four decades most adults wanting to learn to English have turned to Texas public schools. That will change next summer, causing immediate confusion and concern for some, while others welcome the shift.
Outside what used to be Fannin Elementary School in Dallas, it's a rainy, fall afternoon. Inside, adult education teacher Jorge Saucedo runs through a lesson about weather with his Spanish speaking students. They're enrolled in the free ESL class, English as a Second Language.  Saucedo wonders if he and seven other teachers will still be here or even have jobs a year from now.
"Of course any time there's change," explains Saucedo, "you're going to feel a little concerned. But of course there's always concern on my part – yes – and some of the other teachers."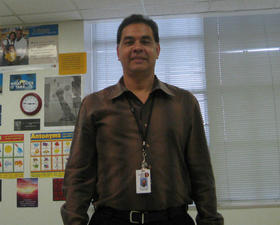 A year and a half ago, state lawmakers shifted 73 million adult education dollars from the Texas Education Agency, where it had been for 40 years, to the Texas Workforce Commission. To Laurie Laurrea, that made sense.  She runs Workforce Solutions of Dallas, a jobs and education program.
"It was a realization that perhaps the TEA was a misplacement of the money. People are saying was it really education money or was it workforce money?" Laurrea asks.
With ESL funded through the education agency, Laurrea says many adults never learned they could take English classes unless they had a child in school.
"Our focus is going to be ESL in the work force and there is a huge number of people who suffer low pay, stagnant job because they can't get their language skills up particularly in their own industry," Laurrea says.
Laurrea adds that thanks to an agreement between the Workforce Commission  and Dallas schools, teachers and classes will stay in place for the next seven months. But after that it's unclear where 2,000 adults in Dallas ESL classes will go. Marina Baldez is one of them.
"I don't have a job," Baldez says. "I am a nurse in Mexico but here I need English."
Taking classes at Fannin is manageable for the 30 year-old nurse, who's lived in Dallas for two years.
"Here is good for me," Baldez explains, "because I don't have a car and I come to the school by walking."
What would happen if ESL classes are no longer taught here?
Baldez answers, "Maybe I can't go."
Another big question? Must students show a social security card or legal documentation, which the Workforce Commission requires? Dallas City Councilman Adam Medrano (who used to be on the school board), says that rumor's making the rounds among ESL students. Many of them lack documentation.
"To me that's not good for us because all of our students, I don't know what percentage, probably do not have a Social (Security card)."
Medrano worries that immigration concerns could scare away thousands of potential students.
Laurrea says funding will continue to pay for some adult learners with or without documentation. But details on getting that word out, on whether classes will move, or who will teach and for what pay, all remain unanswered.