A Look Ahead At The Week's Art&Seek Picks
ArtandSeek.net
February 17, 2016
7
Here's what's coming up this week at Art&Seek:
WEDNESDAY
How to Let Go of the World (And Love Everything Climate Can't Change) – On this opening night of the Thin Line Festival in Denton, check out a screening of this film investigating climate change at Campus Theatre.
The Pump and Dump: A Parentally Incorrect Comedy Show and Night Out, For Once – This comedy show includes music, games, and lots of laughs. It's all happening at the Kessler Theater.
THURSDAY
Art in the Dark – The Amon Carter's Art in the Dark has a Hollywood theme and includes a costume contest, live music, games, and some Academy Award-winning animated shorts.
Birds and Brew – Head to the Trinity River Audubon Center after hours to enjoy the trails and exhibits while sampling beers from three local breweries.
FRIDAY
Friday Evening Lecture: Thinking about the Body—Whole and Fragmentary—in Mesoamerican Art – This lecture at the Kimbell Art Museum in Fort Worth examines the social and political significance of the way the body was represented in ancient Mesoamerica.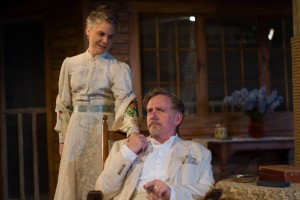 Long Day's Journey Into Night By Eugene O'Neill – This play follows a day in the life of a family tormented by addiction. See Eugene O'Neill's play at Undermain Theatre.
SATURDAY
The Pin Show  – Models parade the work of 22 designers at this annual show at the Bomb Factory.
Spanish Wine Tasting, Art, and Flamenco Dancing!  – Head to the Arlington Museum of Art to sample Spanish wine, check out a Flamenco performance, and see the exhibition of Modern Masters with works by Pollock, Warhol, Lichtenstein, and others.
SUNDAY
THE TAMER TAMED (Stolen Shakespeare Guild, "Battle Of The Sexes") – This answer to Shakespeare's The Taming of the Shrew sees the women taming the men. See Stolen Shakespeare Guild's production of the play at the Fort Worth Community Arts Center.
Cara Mía Theatre Co. Presents Teatro en Fuga: A Festival of New Works – Cara Mia Theatre's festival kicks off this weekend at the Latino Cultural Center. On Sunday, check out I Am Joaquin and Gog and Magog: Two Clowns Trapped in Hell.
MONDAY
Keyboard Conversations: The Golden Age of the Piano – Jeffrey Siegel explores the Golden Age of the Piano with music by Brahms, Tchaikovsky, Gershwin, and others along with a discussion of the works. Hear the music at the Eisemann Center in Richardson.
The Hidden Facets of Opera – Get a backstage look at the Fort Worth Opera's productions including set and costume designs, historic images, and a look at what it takes to pull it all together. This exhibition is on display at the Fort Worth Public Library's Central Branch.
TUESDAY
Trombonapalooza – The Dallas Winds presents this concert featuring solo trombonist Joe Alessi performing a new concerto by Steven Bryant at the Meyerson.
Kyle Kinane, Stand-Up Comedy – Hear the blue-collar comedy of Kyle Kinane at Amphibian Stage Productions in Fort Worth.