A Look Ahead At The Week's Art&Seek Picks
ArtandSeek.net
February 24, 2016
7
Here's what's coming up this week at Art&Seek:
WEDNESDAY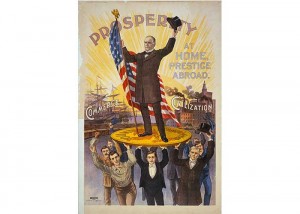 Sign of the Times: The Great American Political Poster 1844 to 2012 – Check out rare political posters from the past 170 years in this exhibition at the Sixth Floor Museum.
I'm Gonna Pray for You So Hard  – A young actress seeks the approval of her successful father in this play. Will parents and children ever find common ground? See Kitchen Dog Theater's production at The Green Zone.
THURSDAY
Cliburn Session – SHUFFLE Concert – This chamber music ensemble lets the audience decide what they'll play. Catch them in concert at the Live Oak Music Hall in Fort Worth.
W. Kamau Bell –  W. Kamau Bell performs his stand up mixed with video projections and personal stories in "The Curve" at UNT in Denton.
FRIDAY
Le Mozart Noir: The Untold Tale  – This ballet tells the story of an 18th century mulatto man who became an influential composer, violinist, and conductor. The work performed at Booker T. Washington's Montgomery Arts Theater includes choreography by Contemporary Ballet Dallas and original compositions by Mark Landson.
Love, Loss & What I Wore – Contemporary Theatre of Dallas explores the memories that are triggered by particular items of clothing and the women who wear them.
SATURDAY
Pilobolus Dance Theater – The contemporary dance group performs a retrospective of work from the past 40 years at the Eisemann Center.
Opening Reception – The Next Chapter: 154 Glass Street  – PDNB Gallery opens its new location with a group exhibition featuring works by local and regional artists.
SUNDAY
Peter and the Wolf – A family concert at the Herring Recreational Center includes Prokofiev's classic work performed by the Lewisville Lake Symphony and LakeCities Ballet. Don't miss the instrument petting zoo before the show.
Flowers of Ilium, A Devised Show – This devised show is based on Trojan Women by Euripides and some of Shakespeare's monologues for angry, distraught women. See Bare Bones Shakespeare's production at the Core Theatre.
MONDAY
Million Dollar Quartet – This musical is inspired by a recording session in which Elvis Presley, Johnny Cash, Jerry Lee Lewis, and Carl Perkins played together. See the show at Bass Performance Hall.
The Complete Works of William Shakespeare: King John – King John's hold on the English throne is threatened by his nephew Prince Arthur in this drama. Catch a staged reading at the Winspear.
TUESDAY
Rent – This rock opera by Jonathan Larsen explores the lives of a group of artists surviving in New York City. See the show at Casa Manana.
Vocalosity – See the a cappella group performs at University of Texas at Tyler's Cowan Center.