A Look Ahead At The Week's Art&Seek Picks
ArtandSeek.net
March 9, 2016
9
Here's what's coming up this week at Art&Seek:
WEDNESDAY
The Outgoing Tide  – A family must come to an agreement for the future in this play. See One Thirty Productions' presentation at the Bath House Cultural Center.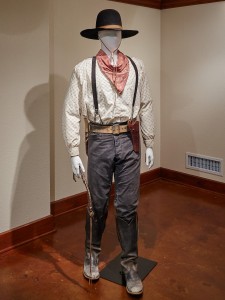 Bullets and Bustles: Costumes of Lonesome Dove – This exhibition at the National Cowgirl Museum and Hall of Fame in Fort Worth features the costumes worn in the film Lonesome Dove, created by award-winning designer Van Ramsey.
THURSDAY
Dancing Beyond Borders: DBDT in Fort Worth – Dallas Black Dance Theatre and Dallas Black Dance Theatre II perform highlights from the season at the W.E. Scott Theatre at the Fort Worth Community Arts Center.
The Trishas – This Austin-based quartet sings harmonies at the Kessler Theater.
FRIDAY
35 Denton Festival – The festival kicks off with yoga on the Courthouse Square Lawn and performances by Dove Hunter, Daniel Markham, and Repel the Robot.
Art Reception: Beyond the Image | Brendan T. Kelly – Photographs by Brendan T. Kelly are on display in an opening reception at Elm Street Studio in Keller.
SATURDAY
The Sounds Of New Orleans: A Tribute To Louis Armstrong – Trumpet virtuoso and vocalist Byron Stripling plays this tribute concert at Bass Performance Hall.
Opening Reception: Women in Print – This exhibition at the Bath House Cultural Center showcases the work of sixteen local and regional women printmakers.
SUNDAY
Third Annual Jazz Age Sunday Social  – Head to Dallas Heritage Village at Old City Park for an afternoon of music, games, and some old-fashioned fun.
The Nether, by Jennifer Haley – A detective finds herself in a moral conundrum while investigating a virtual reality site. Watch the drama unfold in this play at Stage West in Fort Worth.
MONDAY
DMA Arts & Letters Live presents – Texas Bound II: In Hindsight – Actors with Texas ties read works by Texas authors in this series at the DMA.
Light Up the Sky – Theatre Three presents this backstage comedy following the cast of a Broadway show on opening night.
TUESDAY
ECHO READS: THE MUFFIN CONUNDRUM by Diana Lee Woody – Head to Bath House Cultural Center for a staged reading of this new comedy.
Paradise/Hell: An Installation by Vicki Meek – This exhibition at Mountain View College's Cliff Gallery explores environment as both paradise and hell and includes photographs, lyrics, and a site-specific installation.