A Look Ahead At The Week's Art&Seek Picks
ArtandSeek.net
August 3, 2016
4
Here's what's coming up this week at Art&Seek:
WEDNESDAY
Bar Politics with Josh Kumler – The Bar Politics gang heads to Absinthe Lounge in Dallas for a night of live, local, fake news.
Artist Reception: Erik Espinoza – Local artist Erik Espinoza's work blends expressionism, Mexican folk art, and pop art.  His paintings explore how the war on drugs has affected Mexican culture, and they're on display in an opening reception at Goodfriend Beer Garden and Burger House in Dallas.
THURSDAY
Petite Party : Poetry Slam & Readings – The Friends of the Bath House Cultural Center present a night of poetry by pros and novices alike. Head to the Bath House to read your work and hear the work of others.
I Love You Because – Pride and Prejudice gets a modern twist in this musical comedy. See Our Productions' show at the MCL Grand.
FRIDAY
Visual Conversations Series – The Sunset Art Studios in Oak Cliff will be open for demonstrations and collaborative work so you can get in on the art-making and the visual conversation.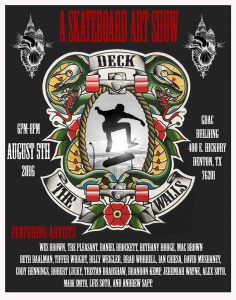 First Fridays at the Arts Center: DECK THE HALLS – Head to the Patterson-Appleton Art Center in Denton to check out skateboard decks hand-painted by local tattoo artists.
SATURDAY
SceneShop "Turn and Face the Strange" – Sceneshop presents stories about oddballs and outsiders. Check out the short works and live music at Arts Fifth Avenue in Fort Worth.
Summer Arts Festival at Southwest Gallery – Artists paint on site, blow glass beads, and create jewelry at Southwest Gallery's Summer Arts Festival.
SUNDAY
The Colored Museum by George C. Wolfe – Soul Rep Theatre Company presents this satirical play about race at South Dallas Cultural Center.
Mokha Laget: COLOR INTO SPACE – Head to the Museum of Geometric and MADI Art to check out Laget's signature shaped canvases and lithographs in this colorful exhibition.
MONDAY
Gold Rush – Chris Thames paints movie, sports, and television stars in his colorful, abstract style. See his work at the Fort Worth Community Arts Center.
Jim Stoker: Reflections of Nature (Confetti-Splatter Paintings) – This Texas artist paints nature scenes using his unique confetti-splatter technique. His work is on display at Valley House Gallery and Sculpture Garden in Dallas. 
TUESDAY
Summer Silly: Weeknight Wild! – The Alternative Comedy Theater brings you a night of comedy and improve at Pocket Sandwich Theatre in Dallas.
No Turning Back: The Art of Veryl Goodnight – The artwork of Veryl Goodnight is dedicated to the American West. This exhibition at the National Cowgirl Museum and Hall of Fame includes 15 sculptures and 11 paintings.