A Look Ahead At The Week's Art&Seek Picks
ArtandSeek.net
September 14, 2016
3
Here's what's coming up this week at Art&Seek:
WEDNESDAY
Movie Night at DCP: The Salt of the Earth – Photojournalist Sebastiao Salgado has created this film documenting the lives of people all over the world. Catch the screening at the Dallas Center for Photography.
A View From The Bridge By Arthur Miller – Amphibian Stage Productions presents a screening of National Theatre Live's production. See the show at the Modern in Fort Worth.
THURSDAY
The Deep Remembrance Project Presents Deep Ellum – The Deep Remembrance Project celebrates African American musicians in Deep Ellum. Head to RBC for Deep Ellum Unplugged, a concert and conversation showcasing the local music scene.
Lecture: High Fashion in the American West – Hear about the fashion portrayed in Charles M. Russell's watercolors of the American West. Check out the lecture and the paintings at the Amon Carter Museum of American Art in Fort Worth.
FRIDAY
State of the Arts Fort Worth: Examining the Cultural Shift – KERA's Jerome Weeks moderates a conversation about how organizations in North Texas are embracing the growing Latino population. Join the discussion at the Kimbell.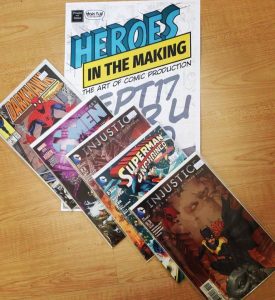 Opening Reception: Heroes in the Making: The Art of Comic Production – Check out this interactive exhibition of comic art at the Patterson-Appleton Art Center in Denton.
SATURDAY
Frame4Frame Film Festival – Arlington holds its first Frame4Frame Festival at various spots all over town. The festival includes films, live music, and art exhibitions.
Party on the Porch – Head to the Amon Carter Museum of American Art in Fort Worth for a late night full of local bands, lawn games, the Gabriel Dawe installation, and fun art activities.
SUNDAY
Carmen and Danse à Grande Vitesse – Dallas – Texas Ballet Theater (accompanied by the Fort Worth Symphony Orchestra) performs these two epic ballets at the Winspear.
Snap Wyatt and Molly McGuire: County Fair – This exhibition at Webb Gallery in Waxahachie showcases circus banners and posters created by Snap Wyatt and Molly McGuire. McGuire's illustrations were included in the TV show "American Horror Story."
MONDAY
Banff Mountain Film Festival World Tour – Check out adventure and environmental films in this annual festival at the Modern Art Museum of Fort Worth.
Endangered Species Series: Elephants – Local potter and sculptor Stormie Parker's exhibition showcases the plight of the elephant and other endangered animals. The works are on display at the Fort Worth Community Arts Center.
TUESDAY
GEOF KERN: Life, Death, Beauty and Garbage Selected Work Pictures 1987-1997 – This exhibition marks Geof Kern's most innovative period. His fashion and advertising photography is on display at PDNB Gallery in Dallas.
Robert Batson: Weaving in Paint (A Concept Revisited) – Irving-based artist Robert Batson creates large paintings inspired by textiles from the Southwest and Central and South America. Check out the works at Irving Arts Center.