How To Help Artists, Actors, Musicians
ArtandSeek.net
March 19, 2020
9
We will continue to update this list. If you have resources to add, email jweeks@kera.org.
Because culture workers were some of the original members of the gig economy, many do not have unemployment insurance, health insurance or even a cash reserve for the kind of world-wide emergency that'll keep them out of work for at least two months. Like this one.
BUT! because this financial plight has been the career-long, dystopian outlook for many actors, dancers, artists and musicians, there are already a number of established resources they can turn to — and you can help with.  Things like the Actors Fund's Entertainment Assistance Program or the Musicians Foundation or The Authors League Fund. The assistance is often limited to a few thousand dollars or (usually) less. So these are for real emergencies — you know, like the current one.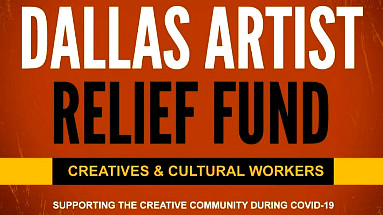 Some of this very helpful list from KQED is San Francisco-centric (only Bay Area residents are eligible), but it also covers a wide variety of national resources for different disciplines including blues musicians and craftspeople (working in jewelry, fiber, ceramics, etc.). Check it out.
AND the good news — well, you know, good news considering the circumstances — is that area artists have joined together to create two GoFundMe campaigns to directly help North Texas artists.
The first one, the Dallas Artist Relief Fund, was established by Creating Our Future Dallas in order to provide support for "low-income, BIPOC, trans/GNC/NB/Queer artists and freelancers whose livelihoods are being affected by this pandemic in Dallas." The campaign was organized by artist, writer and social activist Darryl Ratcliff. The target is $5,000 but the Dallas Artist Relief Fund is also accepting non-monetary support (you just need to fill out an online form).
DARF's GoFundMe page can steer you to this incredibly diverse list of information resources, emergency funds for all kinds of artists and freelancers (women photographers, jazz musicians) and other crowd-funding support efforts around the country.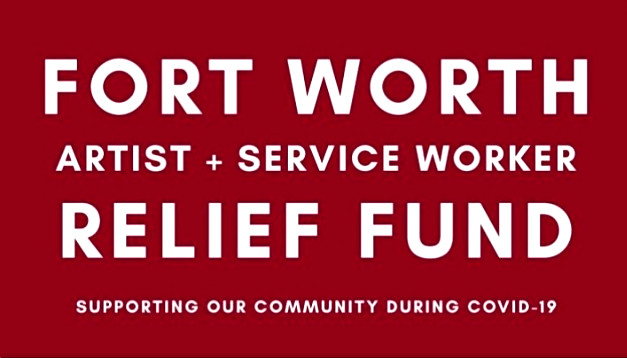 For the Fort Worth area, there's the Fort Worth Artist + Service Worker Relief Fund, organized by singer-songwriter Rachel Gollay to help out "the creative class and hardworking service industry folks of Fort Worth, who are getting hit hard by COVID-19 cancellations." The target here is $10,000, and as of this moment, they've almost reached it (yes, shamelessly, I hope this sparks some competitive spirit in Dallas for the Dallas Artist Relief Fund). In fact, due to the high number of applications for the fund (which will be distributed equitably to as many people as possible), applications are closed. But Gollay is "currently exploring setting up a shared document where people can submit and fulfill requests seamlessly and directly to one another." And, of course, they're still accepting donations.
Speaking of which: If you know of other artist relief funds set up for/by North Texans, let us know.