Say Cheese! How One Flower Mound Couple Is Pursuing Their Foodie Dream With 93 Kids…And Counting
ArtandSeek.net
November 9, 2017
3
Anne and Johnny Jones of Flower Mound just knew they wanted kids–not those kind of kids.
This kind…
The Joneses are the owners of Latte Da Dairy and their journey to 93 kids and counting started quite simply because Anne really loves cheese.
It began when the couple took a trip to France and Anne found she couldn't get enough of the local artisan goat cheese, or chèvre. When they returned home, Anne tried her hand at whipping up her own cheese only to find grocery store goat milk didn't yield the same results as fresh goat milk.
Stop by
Latte Da Dairy
this Sunday from 11 a.m. to 3 p.m. for their
open house
. You can taste artisan cheese, see how the cheese is made, and pet some baby goats.
That's when Rosie and Serenity entered the picture.
"I started by getting two goats just for milk for us," explained Anne, "and fell in love with the milk and making cheese. I was working a corporate job and traveling to Chicago every week and instead of my boss asking for my reports, she said, 'Did you bring cheese?'"
Anne began entering and winning cheese competitions. Pretty soon, the opportunity to add more goats to their herd came up. That's when they decided to launch the dairy. Anne said it was an easy choice. "I thought, "Well, why not?  I can make cheese, be at home, and be able to play with the goats all day."
The Joneses started small with just a few goats and Anne selling her cheeses at farmers markets. Eventually, Central Market came on board as a customer, and today more than 90 goats call Latte Da dairy home. Anne thinks the timing was perfect. "Everyone wants to eat local, and they want to eat good food, healthy foods, and whole foods. Things without a lot of additives."
The Nubian and Lamancha goats the couple raise are more than just milk makers. Turns out they're better buddies than dogs. The Joneses lovingly refer to them as "Golden Retrievers with udders."  "They all have their own personality," says Johnny. "There are times when you're standing out there, you've had a long day working and one of the goats will come up and start rubbing up against you because she wants some attention."
Anne thinks her Dairy Divas are so special that they deserve to have special names too. "We had a doe and her name was Yo Miss High Society and all of her daughters were Yo daughters, Y-O. And so we had Jackie YO-nasis and Michelle YO-bama, Scarlett YO-hara, Angelina YO-lie, and it goes on and on. I wanted them to have names of women that in general I respect and that would be proud to have a goat named after. And hopefully, they feel good about it too. I don't know how Oprah would feel if she knew she had a goat named after her."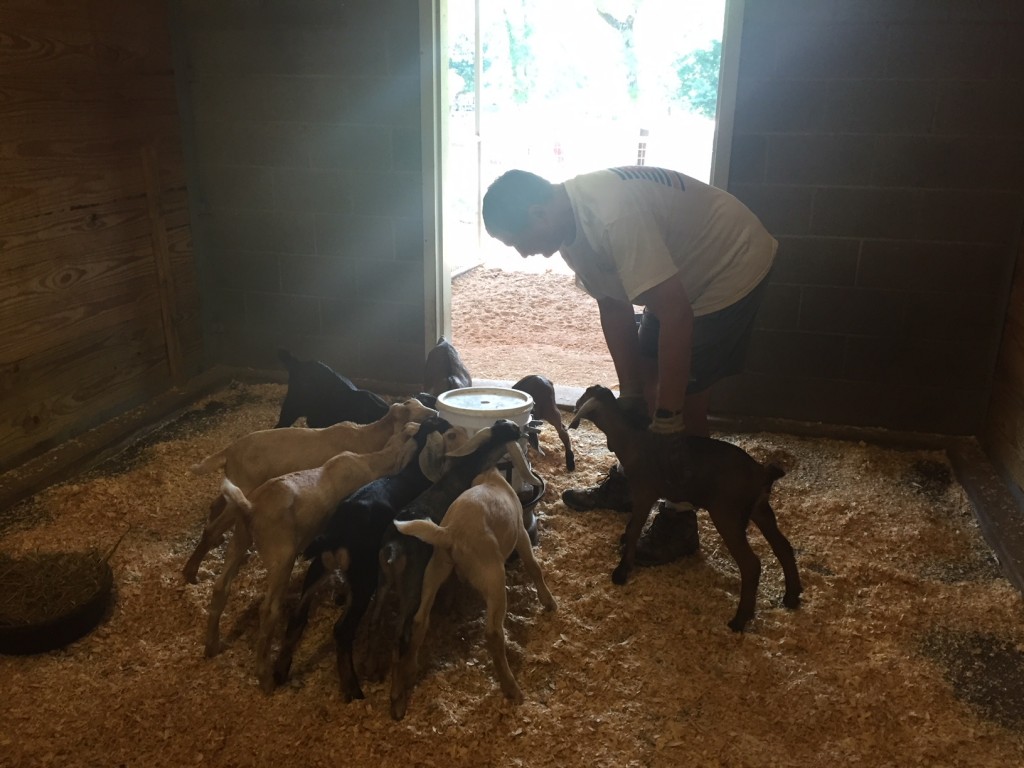 It may sound wonderful and pastoral, but it's also hard work. The Joneses started their venture in 2005, and it took about six years for the dairy to start paying the bills. Their advice to aspiring goat farmers is to think twice. "First off, find out if you really like goats and like dairying. Don't go out and buy 60 goats, don't cash in your 401K to try and do this. That's just not wise financially. You have to do this because you absolutely love this because you don't get the financial compensation like you would in some other jobs." says Anne.
To the Joneses, the end result of delicious cheese makes it all worthwhile.  Anne says, "It's the satisfaction of seeing someone's face when they taste the cheese and their eyes just light up like 'Wow!' That to me is really fun. I love doing it."
Plus, you get to play with baby goats.